50 Years of Cultural Education
If you are Scottish, of Scottish descent, or you just like kilts and bagpipes, you are invited to join The Scottish Society of Dallas. We generally meet on the third Sunday of the month, September through May. The June meeting is on the fourth Sunday, because Fathers Day is the third. Check the meeting schedule page to be sure and/or feel free to send email to the webmaster for further information. There are no meetings in July or August -- it's an excellent time to travel to Scotland!
Our next meeting is Sunday, Dec. 15, 2013 at 2pm.

As in past years, we have it on good authority that a kilted Santa is very likely to appear with gifts for the children... If you will be bringing children, or grandchildren, (under 19) please let Myra Ballantyne know how many and their ages, by Sunday, Dec. 8th, so that we may get an accurate headcount. Thanks... Please click on the following link for more details, particularly if you'll be bringing children. (Party details.)
History and Purpose
Now in our 50th year of operation, The Scottish Society of Dallas was organized at the Salado Gathering of the Clans, Salado, TX in the fall of 1963. The original name was "Scottish Clans of North Texas, in Dallas, Texas". The organizers were Jean Luch, Bill Bell, Bill McRight, and others. Early meetings were held at Luby's Cafeteria at Preston Center until being moved to the Garland Women's Activities Building where we meet today. Over the years the Society has supported the Dallas Highland Games held at Samuel Park, the International Bazaar at Dallas City Hall, the Texas Scottish Festival & Highland Games in Arlington, and the State Fair of Texas.
The purpose of the Society is to share and further Scottish culture.
To that end, the Society sponsors two major events annually: a Tartan Day Ceilidh (like: kay-lee) in late March or early April, which is free to the public, and a St. Andrew's Dinner & Dance in late November. Other Society activities involve participation in the North Texas Irish Fest at Fair Park (March), the Texas Scottish Festival and Highland Games in Arlington (May), the Plano International Fest (October) and finally the Gathering of the Clans and Highland Games in Salado (November). Join us this year as we celebrate our 50th birthday at the Salado event! Society members also represent Scotland and share information about our nation's Scottish heritage at cultural fairs and celebrations held throughout the Dallas metro area. If you'd like us to participate in your next cultural event, send us an email and let us know what you have planned.
2013 St. Andrew's Dinner & Dance
The Society would like to thank all those who helped make our recent St. Andrew's event (23-Nov-13) a success. In particular: The North Texas Caledonian Pipes & Drums, Dallas Highland Dancers and all of the members who pitched in "behind the scenes." Thank you one and all. We look forward to seeing you all again in 2014.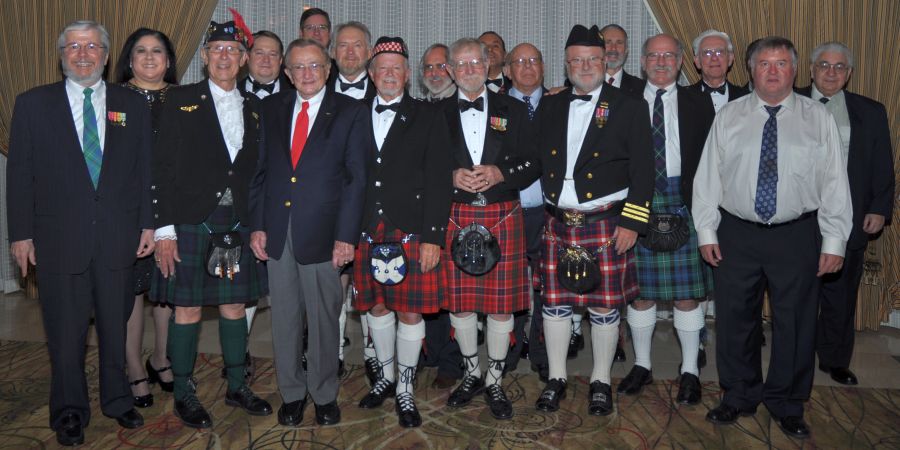 Pictured are St. Andrew's attendees who are serving, or served in the US or British armed services.
Thank you all for your service. (Photo by Fischer)



This year our Society celebrated its 50th anniversary. Picture with the cake commemorating that milestone are the three ladies who've been with our group the longest: Myra, Davina and Jean. (Photo by Teakell)