Future Events / Activities
Join in the fun. Come out and meet members of our society at any of the following events. Members, if you would like to get involved in any of the activities listed below, just click on the "Send Email" link on the left side of this page.
May 8, 9 & 10, 2015
Maverick Stadium, UT/Arlington
Arlington, TX
On Saturday, May 4, 2013, Isabel Johnston, visited with a young man who's Scottish connection is by way of the surname: Scott, as in Sir Walter Scott, author of classics like Ivanhoe and Rob Roy. In the background, John Aitken and Scott Fischer visit with a representative of the Salado Gathering of the Clans and Highland Games about their annual event in November. (Photo by Teakell)
Immediate Past President John Aitken (center, behind the table) visits with guests on Saturday, May 4, 2013, at the Texas Scottish Festival & Highland Games in Arlington. (Photo by Teakell.)
This event is free to the public.

2015 Date: TBD


(Usually held on the First or Second Saturday in October.)

Haggard Park, Plano, TX

15th Street, adjacent to the downtown, Plano Light Rail Station


(Save gas and don't worry about parking: Ride

DART

!)

Members John Aitken (in kilt) and Matt Williams talk to attendees at the 2013, Plano International Fest, at Haggard Park in downtown Plano. (Photo by Teakell)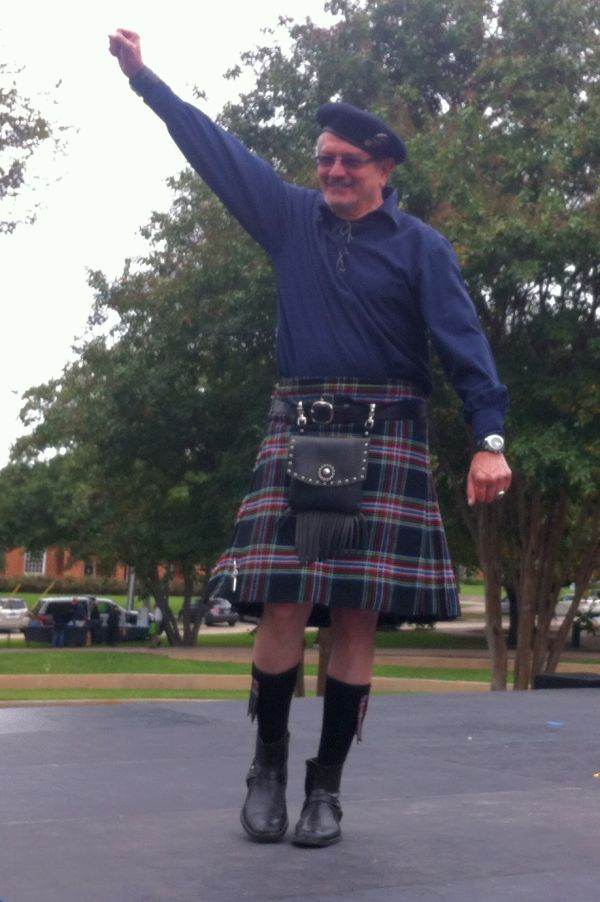 Member Max Maxwell (now: Society Vice President Max Maxwell!) proudly represents Scotland in the 2013, Plano International Fest "Fashion Show," on what appears to be kind of a Scottish day, weather-wise. (Photo by Kay)
Sponsored by: Central Texas Area Museum
2015 Dates: TBD, generally the second full weekend in November.
Salado, TX (I-35, bt. Temple & Austin)

Members Chris Farrar and John Aitken (Immediate Past President) "working" our booth at the 2011 games -- the 50th annual, games -- in Salado. (Foto By Fischer)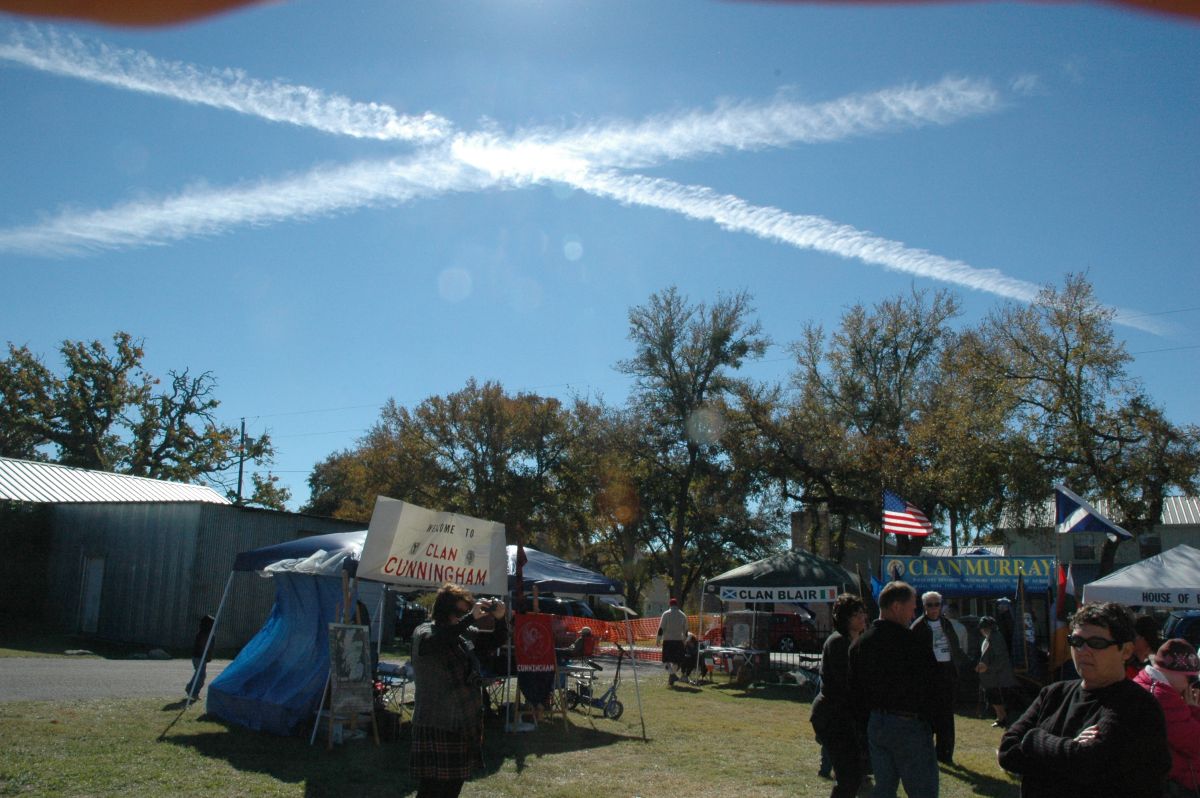 The 2010 Salado Gathering of the Clans is "topped off" by a pair of jet con-trails forming a St. Andrew's Cross above the heads of the participants. How appropriate was that?!? (Foto By Fischer)
Saturday evening November 21, 2015
Location to be determined... yes, we'll be in a new location this year so "stay tuned."
Doors open at 6:30pm; Dinner at 7:30pm.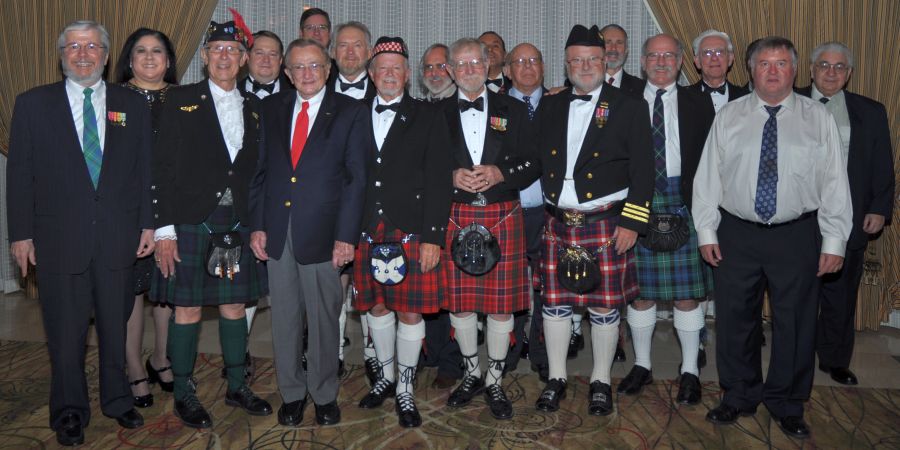 Pictured are St. Andrew's attendees (Nov, 2013) who are serving, or have served in the US or British armed services. Thank you all for your service. (Photo by Fischer)


(Sponsored by the Daughters of Caledonia.)


Held on a Saturday evening in late January


(The 2016 date will be posted here when available.)



Note: The 2010, 2013, 2014 and 2015 Burns Night dinners were Sell Outs!
So don't wait until the last minute to get your tickets for 2016!
March 4-6, 2016 (Projected dates)
Fair Park, Dallas, TX


(Their 34nd annual festival!)




Come visit us in the "Scottish Village," comprised of about 28 to 30 clans and Scottish-related societies. Better yet, get involved by joining one of them!




Thanks to all of you who stopped by our booth in 2105...particularly on Saturday. It was a great festival for us! We met lots and lots of festival goers and had excellent "booth support" from a host of our members... Thank you all and we look forward to seeing you again in 2016.




(Members: If you would like to get involved in any of the events listed above,
click here
to send email to the webmaster.