Future Events / Activities
Join in the fun. Come out and meet members of our society at any of the following events. Members, if you would like to get involved in any of the activities listed below, just click on the "Send Email" link on the left side of this page. Most of the event titles listed below, are links that provide access to additional information about the event...so "click away!"
March 6-8, 2020


Come visit us in the "Scottish Village," comprised of about 28 to 30 clans and
Scottish-related societies. Better yet, get involved by joining one of them!




Thanks to all of you who stopped by our booth in 2019. It was a great festival for us! We met lots and lots of festival goers and had excellent "booth support" from our members... Thank you all and we look forward to seeing you again in 2020.





Above, member Sharon Wolf (left) speaks with a guest at the 2017 Irish Fest,
at Fair Park, in Dallas. And yes ... that is the Hogwarts Railway pictured in front
of Sharon. It is a real steam train running in west-central Scotland, between
Fort William and the port city of Mallaig. You may ride it, when you visit
Scotland! Below, former President Larry Duncan (right) speaks with another guest.
(Fotos by Fischer)




If you've not been by our booth at Irish Festival, it is always a
"double-wide" affair (prominently marked by the flags over the
left hand tent) as shown above during a quiet moment on Sunday
morning, at the 2017 festival. (Foto by Fischer)
Sherman, Texas
Saturday (9am to 6) & Sunday (10am to 5), Mar 23 & 24, 2019
2190 Fallon Dr, Sherman, TX 75090

Across the street from the Midway Mall; north side of Fallon; north of downtown.
The Society would like to thank all the festival attendees who dropped by our tent to visit with us at the last festival. It was a pleasure meeting each and everyone of you. Moreover, a huge thank you is owed the Society members who came out to volunteer in the tent.


Guest Wendy Woods and her grandson stopped by our tent and posed for a picture with former Pres. Larry Duncan and long time 'adjunct' member, Brooke Sym, at the Sherman Celtic Festival, March 24, 2018.
(Photo by David Woods)
Guests check out the maps, photos, flags and other display items
at the Sherman Celtic Festival, March 24, 2018.
This event is free to the public.
2020 Date: TBD


(Usually held on a Saturday, in early to mid-October.)
Hours are from: 11am to 5pm


Location: Haggard Park, Plano, TX

15th Street, adjacent to DART's downtown Plano, Light Rail Station


(Save gas and don't worry about parking: Ride

DART

!)

Member John Aitken talks to attendees at the 2015,
Plano International Fest, on Saturday, October 18.
(Photo by Duncan)

Member Stan Oliver, making his debut appearance in
our booth, talks to guests at the 2015, Plano Fest.
(Photo by Duncan)

As in past years, the Dallas Highland Dancers, supported by members of the
Society, demonstrated a variety of Scottish dances at the Plano Fest.
(Photo by Duncan)
2020 Dates: TBD, generally held in late October.
Sponsored by: Central Texas Area Museum
2020 Dates: TBD, generally the second full weekend in November.

Members Chris Farrar and John Aitken "working" our booth at the 2011
games in Salado -- the 50th annual Salado games! (Foto By Fischer)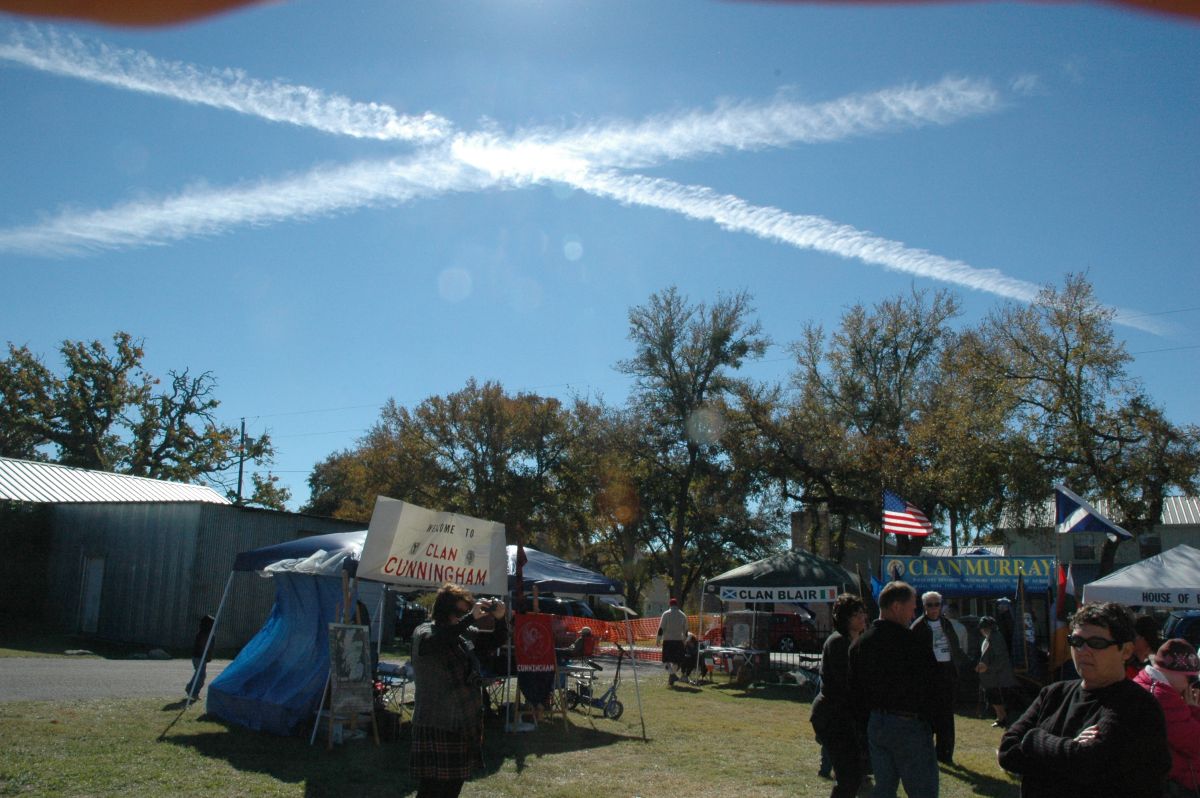 The 2010 Salado Gathering of the Clans was "topped off" by a pair of
jet con-trails forming a St. Andrew's Cross on a blue field overhead.
How appropriate was that?!? (Foto By Fischer)
Held each year on a Saturday evening in late January. (Burns was born on January 25, 1759.)


(The 2021 date will be posted here when available.))
*********************************************************



(Members: If you would like to get involved in any of the events listed above,

click here

to send email to the webmaster.)