Future Events / Activities
Join in the fun. Come out and meet members of our society at any of the following events. Members, if you would like to get involved in any of the activities listed below, just click on the "Send Email" link on the left side of this page. Most of the event titles listed below, are links that provide access to additional information about the event...so "click away!"
This event is free to the public.

Saturday, October 1, 2016
11:00am to 5:00pm
Haggard Park, Plano, TX

15th Street, adjacent to DART's downtown Plano, Light Rail Station


(Save gas and don't worry about parking: Ride

DART

!)

Member John Aitken talks to attendees at the 2015,
Plano International Fest, on Saturday, October 18.
(Photo by Duncan)

New member Stan Oliver, making his debut appearence
in our booth, talks to guests at the 2015, Plano Fest.
(Photo by Duncan)

As in past years, the Dallas Highland Dancers, supported by members of the
Society, demonstrated a variety of Scottish dances at the Plano Fest.
(Photo by Duncan)
Sponsored by: Central Texas Area Museum
Fri./Sat./Sun., Nov. 11-13, 2016
Salado, TX 76571 (I-35, bt. Temple & Roundrock/Austin)

The Society will have its tent set up both Saturday and Sunday.

Members Chris Farrar and John Aitken "working" our booth at the 2011
games in Salado -- the 50th annual Salado games! (Foto By Fischer)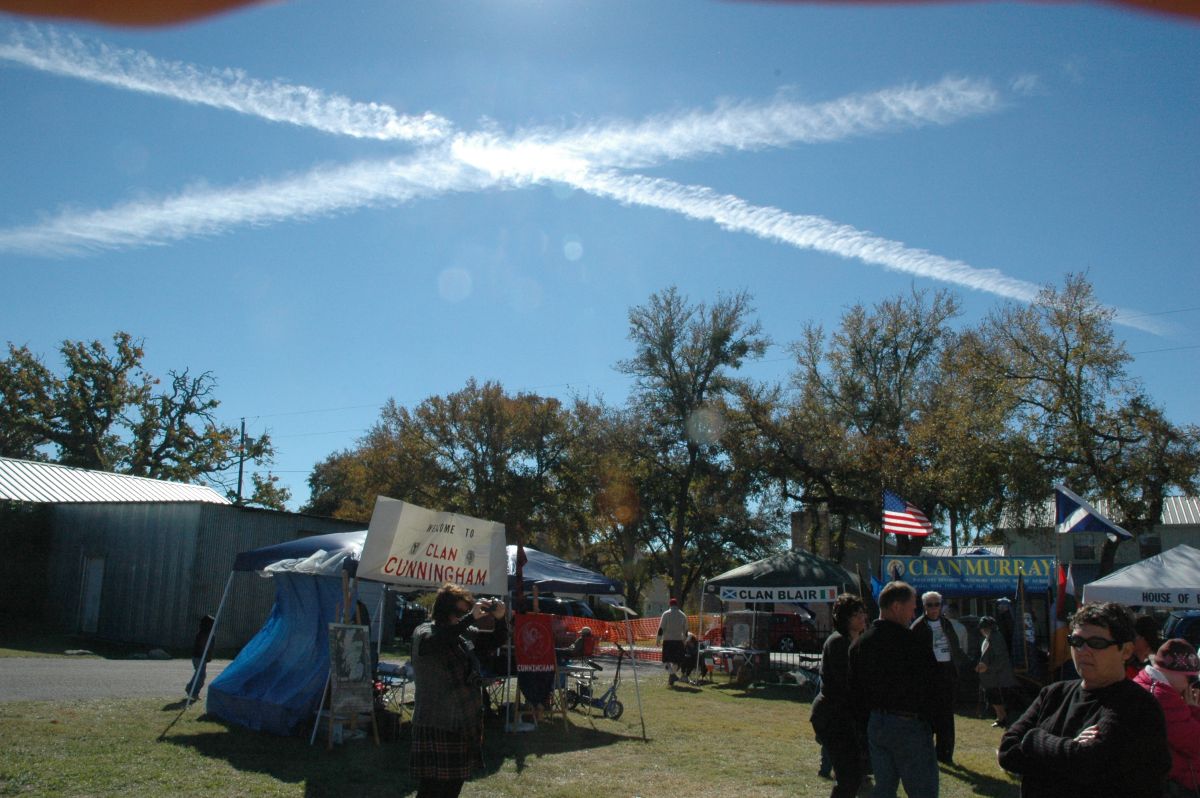 The 2010 Salado Gathering of the Clans was "topped off" by a pair of
jet con-trails forming a St. Andrew's Cross on a blue field overhead.
How appropriate was that?!? (Foto By Fischer)
Wyndham Dallas Suites - Park Central
7800 Alpha Road, Dallas, 75240
Saturday evening December 3, 2016
Doors open at 6:30pm; Dinner at 7:30pm.


Pictured above are St. Andrew's attendees (Nov, 2015) who were serving,
or had served in the US or British armed services. Thank you all for your
service. (Foto by Fischer)

Held on a Saturday evening in late January


(The 2017 date will be posted here when available.)
First Weekend of March, 2017
Fair Park, Dallas, TX


(Their 35th annual festival!)




Come visit us in the "Scottish Village," comprised of about 28 to 30 clans and
Scottish-related societies. Better yet, get involved by joining one of them!




Thanks to all of you who stopped by our booth in 2106...particularly on Saturday. It was a great festival for us! We met lots and lots of festival goers and had excellent "booth support" from a host of our members... Thank you all and we look forward to seeing you again in 2017.






Above Treasurer Margaret Aitken talks to a guest at the 2014 Irish Festival
at Fair Park, in Dallas. Below John Aitken and VP Max Maxwell, talk to guests.
(Fotos by Fischer)


This event is open to the public and is free, so bring the family and enjoy an afternoon of Scottish music, dance and culture, as we celebrate the contribution of native Scots and their descendents to both our nation and our state.
2017 date to be determined; It will be on a Sunday in late March or early April, from 1 to 5pm
We want to thank all of our guests, performers and volunteers who made our 2016 ceilidh (held on April 10th) a success!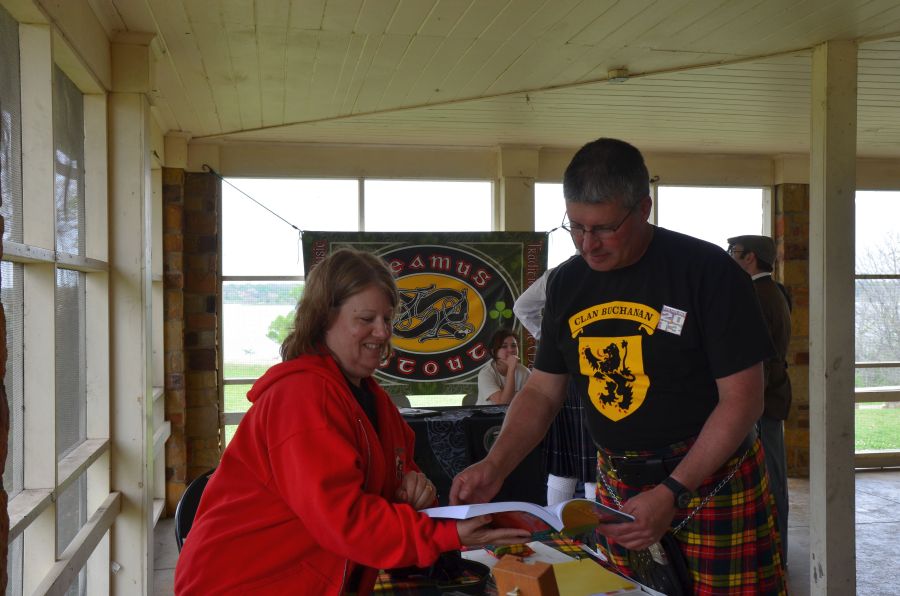 Bill McQuatters and his wife represented Clan Buchanan, Tartan Day 2013.
(Photo by Lampton)
Member Becky Hopkins and friend, greeted quests at the door.
(Photo by Lampton)
May2017 - Exact dates to be posted when available.
Maverick Stadium, UT/Arlington
3701 W. Mitchell Road, Arlington, TX
On Saturday, May 14, 2016, with flags flying smartly in the breeze, members of the Society
await the arrival of guests at the Texas Scottish Festival & Highland Games in Arlington.
(Photo by Duncan)
Member John Aitken (4th from left) visits with guests on
Saturday, May 14, 2016, at the Texas Scottish Festival.
(Photo by Teakell.)
(Members: If you would like to get involved in any of the events listed above,
click here
to send email to the webmaster.)